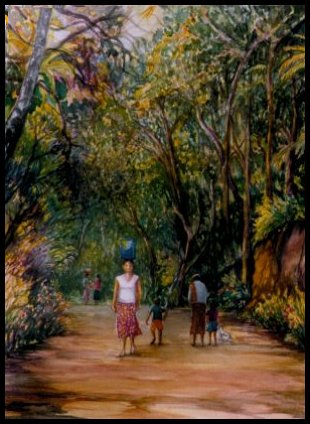 The Paintings of Dante Rondo
Dante paints on location in such diverse places as Southern France, Tahiti, Fiji, Hawaii, the coast of California to the mountains of the High Sierras. His work is represented and collected in the U. S. on both coasts, as well as in Hawaii, Fiji, Australia, Denmark and Japan. He is a painter of many direrse facets. His impressionistic works stem from his frequent interaction with nature. To his way of seeing, "the beauty in nature is deeper than what meets the eyes alone". In a high-tech world that is becoming increasingly artificial, the viewer is brought back to a sense of naturalness by his luminescent impressionism.
Here are some pictures of some of his works. He will soon have his own website and you will be able to see many more.
Click on the small images to view larger ones.....
Dante Rondo
P. O. Box 3822
Carmel, CA 93921
(408) 626-4259